News
Visit at IIBLC® office by Marc Hermo IV
We had the pleasure today of welcoming Mr. Marc Hermo IV of INNOVEO (Manila) to our Antwerp office.
INNOVEO is our partner in the Philippines. You can find their details here.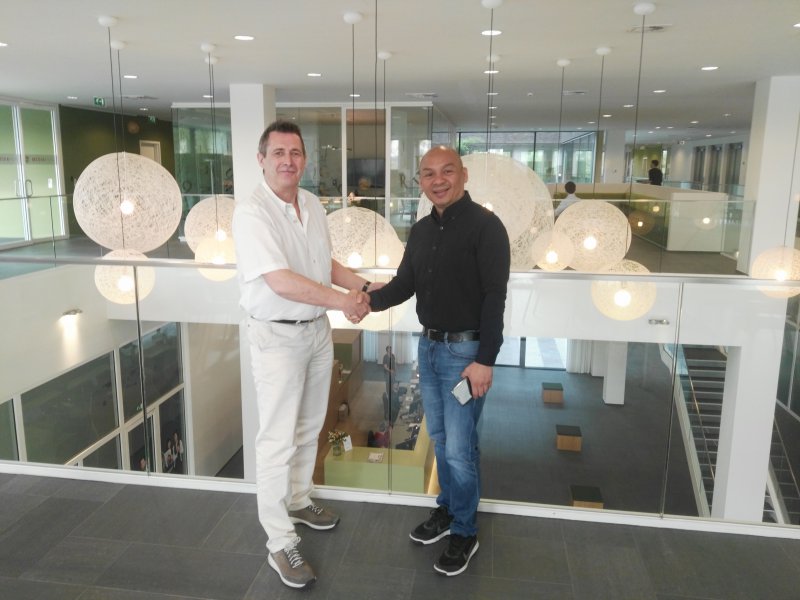 Left: Luc Van Landeghem, President IIBLC®                             Right: Marc Hermo IV, Managing Director INNOVEO
Happy Holidays !!
New exam centre in China!
Today, Nov. 2nd 2018, we are very happy to be able to announce our new exam centre in Shanghai (PRC): Shanghai Xinnanyangsidianling Education Technology Co., Ltd
LMV-China will be responsible for the Shanghai area.
Lean Teamwork
Mr. Barry Pappot, CChL®, has written another interesting article. He describes how a Dutch insurance service provider reached their best performance in just 3 months!

IIBLC® in the press
On November 9th, Luc Van Landeghem, President of IIBLC®, will have the pleasure of speaking at CCIMBO (Chambre de commerce et d'industrie métropolitaine Bretagne ouest).
In view of this event, an article was published in the "Bretagne Economique". Read the article here.
2019 exam dates now published!
Interesting article by Barry Pappot CChL
Mr. Barry Pappot CChL has published an article on the principle of basic stability of processes in service environments.
Click here to read it and download it!
IIBLC® privacy statement
IIBLC® has had, has and will always have the utmost respect for people's privacy. Therefore, in accordance with guidelines and regulations of the EU 2016/679 (GDPR), this page describes the different aspects of IIBLC®'s privacy policy regarding collection, handling and storage of personal data.
Another CChL® Certified Champion in Lean in Belgium
Last Friday, IIBLC president had the pleasure to award the CChL® Certified Champion in Lean certificate to Thomas Van Landeghem and the CBBL® Certified Black Belt in Lean certificate to Lara Alboort. Both work at Veltion BVBA
Left to right: Lara Alboort, CBBL®, Luc Van Landeghem, president IIBLC®, Thomas Van Landeghem CChL®
New exam centre in Ukraine
Today, we are happy and proud to announce another exam centre:
BSK will act as exam centre in Ukraine.
Find all details on our exam centres page.
Pages