News
New Certified Champion in Lean certificates awarded in Italy (update Apr 3th)
During a small ceremony in Bologna, Italy, the CChL® was awarded to:
Mr. Pietro Andreetti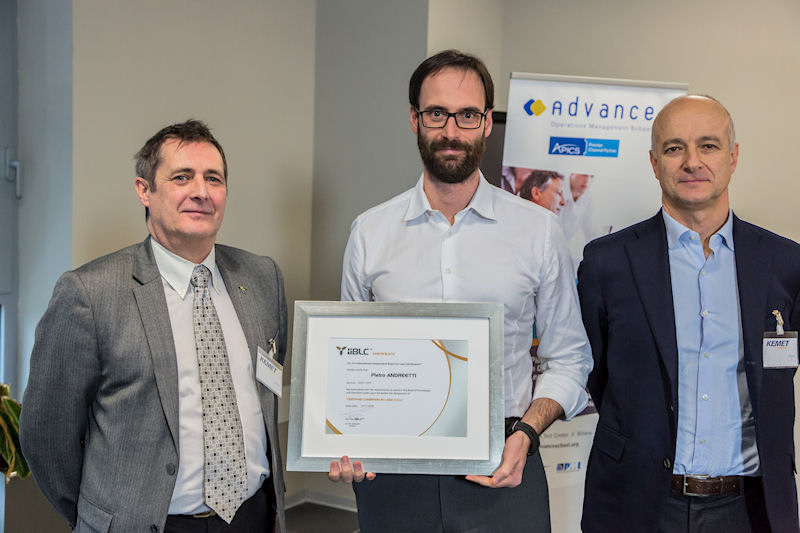 Left to right: Luc Van Landeghem-president IIBLC®, Pietro Andreetti, Daniele Meldolesi-Partner ADVANCE Operations Management School s.r.l.
Mr. Paolo Zanetti
Left to right: Luc Van Landeghem-president IIBLC®, Paolo Zanetti, Daniele Meldolesi-Partner ADVANCE Operations Management School s.r.l.
At the same occasion, 4 CBBL® Certified Black Belt in Lean certificates were awarded.
Happy Holidays
First CGBL® certificates in Manila and Saint Petersburg
We are proud to announce that we have awarded the first CGBL® Certified Green Belt in Lean certificates in both Manila and Saint Petersburg!
On September 10th, exams were held for the first time in both locations.
Congratulations to all candidates that passed their exam (in all locations!)
First exam in Manila
Some pictures of the first exam in Manila:

IIBLC® goes East!
Just a couple of days after welcoming OBS in our community, I am again very proud and pleased to be able to announce you that IIBLC® is growing once again!
Indeed, INNOVEO from Manila, Philippines, has joined us as exam centre for Manila area. Their details can be found here. They have their first candidates lined up for the September exam!
IIBLC® is expanding further!
As from today, Open Business School in Saint-Petersburg is our new exam centre for the Russian Federation.
You can find the details of this centre here.
We are very happy to welcome OBS in our community and wish them success on their journey.
Nice horror
Once again, France has been struck by a horrible, senseless attack. Our thoughts go to the victims and their loved ones.
Brussels attacks
We are shocked by the attacks on our home country at Brussels Airport and Maalbeek subway station.
Our thoughts go to all the loved ones of the many victims.
Seminario - "Supply Chain – Lean Manufacturing" Latina, Italy
Seminario 1/2016 sezione Lazio AD-net
Martedì 19 Gennaio 2015, 9.30 - 13.00
Sala Convegni di Unindustria Latina
Via Montesanto, 8 – Latina 04100
> Ore 9:30 – Apertura
Marco Lozito - Presidente Ad-Net Lazio
> Ore 10:00 – Business Case: "Western" Lean, an evolution…
Dopo l'introduzione del termine "Lean" nei paesi occidentali (es. 1996: Lean Thinking-Womack and Jones), ci sono state diverse interpretazioni del termine.
La "Lean manufacturing" è stata percepita ed usata come una serie di strumenti e tecniche introducendo da subito il tema della sua sostenibilità, e della resistenza al cambiamento.
Circa dieci anni fa, il mondo accademico ed i principali operatori hanno concluso che "avevano dimenticato" dei fattori umani molto importanti per l'implementazione sostenibile del "Lean": la gestione del cambiamento, la leadership, il rispetto per le persone. L'equilibrio di entrambi gli aspetti in un approccio "sistema socio-tecnico" è la via da percorrere.
Luc Van Landeghem - President IIBLC® - International Independent Board for Lean Certification
> Ore 10:45 – L'esperienza Pfizer: Riduzione dei tempi di cambio formato.
Il progetto di ottimizzazione dei tempi di cambio formato sulle linee di packaging dello stabilimento nasce dall'esigenza continua di migliorare i processi interni, creare capacità produttiva e cogliere opportunità di saving.
Il team cross-funzionale ha ottenuto una riduzione del 30% del tempo necessario alle attività di cambio formato, una riduzione della variabilità dei tempi di cambio formato, nonché un incremento delle skills tecniche del personale di produzione.
Marco Passetti – OTC Packaging Manager Pfizer Consumer Manufacturing Italy Srl
> Ore 11:30 – Coffee Break
> Ore 12:00 – L'esperienza J&J: Janssen Visual Factory: La tecnologia al servizio della produzione.
ll progetto della Visual Factory, ideato e realizzato grazie alla collaborazione tra il reparto IT e Decision, è operativo e in continuo sviluppo presso Janssen da diversi anni. Si tratta di un insieme di supporti visivi integrati tra loro che hanno l'obiettivo di agevolare l'operatore nella quotidianità del lavoro, fornendogli tutte le informazioni necessarie, sia tecniche che operative, sulla linea, oltre a dargli indicazioni sul livello della propria performance lavorativa.
La Visual Factory diventa pertanto uno strumento straordinariamente efficace al fine di incrementare la produttività.
Alessandro Ciccone – Manufacturing Supervisor of Packaging Bottles Department Janssen Pharmaceutical Companies spa
> Ore 12:45 – Q&A con i 3 speakers
> Ore 13:00 – Chiusura
Click on picture above for more...

 Follow this link to read an article (in Italian) from Logistica Management.

Pages